Africa As A Platform AaaP- Empowering African ICT Innovators (REGISTER NOW!)
Africa as a Platform – #AfricaAsAPlatform #AaaP – is an innovation in itself to empower, inform, recognize, inspire, initiate, influence, fund, and showcase ICT innovators, thus calling on all African Tech entrepreneurs, leaders, innovators and 'disruptors' to participate. It is is a tech conference that recognizes information and communications technology (ICT) innovators throughout the African continent using technology to confront Africa's daring economic challenges.
Many innovators on the continent are using creativity, ambition and passion to transform the lives of communities and the continent at large. Recognizing these Innovators and how they are resiliently telling the new narrative of 'Africa for Africans' is what birthed Africa as a platform. AaaP is a joint partnership of Q21solutions Ltd and ADE Digital Media Ltd.
The AaaP annual program recognizes, empowers and honours tech entrepreneurs and innovators throughout the African continent. Seed Funding up to N2,000,000.00
How It Works
Africa is searching for the ingenious ones tackling Africa's challenges with innovative solutions. Get funding for that excellent technological concept through the AaaP platform. Are you an innovator? Can you create solutions that can solve Africa's economies? Lets solve some of Africa's arising issues with the use of technology. if you are capable then apply now.
Why You Should Partake
AaaP is the thought leader for Africa's technology-aided future. Join tech leaders, entrepreneurs and innovators in shaping the future of the continent!
Call For Entries
Submission open between June 30 till August 18th 2017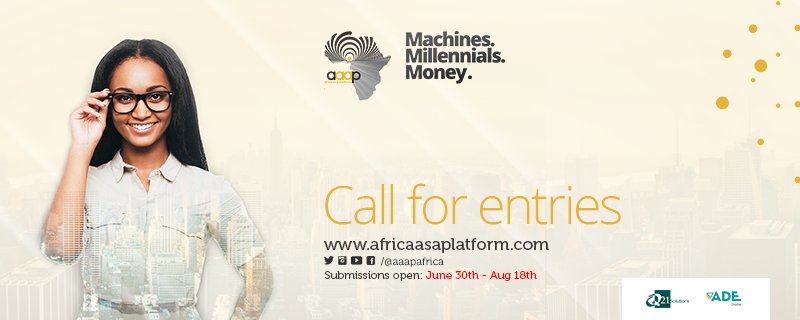 Showcase Your Startup
Expose your startup's ideas and products to an audience of Venture Capitalists, Tech Acquisition experts and global media.
Visit Aaap website http://africaasaplatform.com/ to learn more. You can also keep in touch on Social Media: http://facebook.com/aaapafrica http://twitter.com/aaapafrica  http://instagram.com/aaapafrica
APPLY NOW
Think you are qualified? Apply right away!
Kindly follow us on Twitter
@TRIOTINAIJA